---
---
Welcome to Socalyogawalls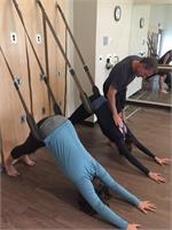 Socalyogawalls, located in San Diego, CA is available for all of your custom Yoga Wall installation and instruction needs. Whether it is a complete Yoga studio or custom home project Jason Cull, the Founder of Socalyogawalls & Certified Yoga Therapist, can guide you through your project from start to finish and train your staff. He has been building Yoga walls and offering Yoga wall training's since 2007.
He also offers specialized therapeutic Yoga Wall workshops at your location for both students and instructors alike. These specialized workshops will explore unique topics that dive deeper into the many therapeutic and healing benefits of practicing with the Wall.
So why a Yoga Wall for my studio? For those of you who own a yoga studio or small private Yoga business, having Yoga Walls in your space will broaden what you have to offer to all your clients. You will immediately be able to provide specialized private instruction, group classes and one of a kind Yoga Wall workshops.
The Yoga Wall is also an excellent tool for the ever growing world of Yoga Therapy and our aging population. You will immediately expand your client base and be able to offers more classes suitable for all ages and ability levels. This Yoga is for everyone.
If you are interested in a Yoga Wall(s) please contact Jason so he can come to your home or studio for a consultation. He will evaluate your installation site, explain the process and follow up with a detailed quote. He has done projects all over California as well as in other states. He uses only the best products, take pride in his work and is committed to complete customer satisfaction.
---
---
---
Email: info@socalyogawalls.com Phone: 619 884-2855
Hosted By